Rhododendrenblüte
Die neue Route wurde speziell für diejenigen entwickelt, die Altai Region in seinen Farben sehen möchte und Blüte der endemischen Pflanzen aus dem Roten Buch. Und was kann man mit Bergen voller rosa Farben vergleichen? So blühtet altaier Rhododendren. Willkommen auf der "Blütezeit des Altai"! Die Tour wird von professionellen Fotografen begleitet.

Location
Location

Altai Kray. Foothills. The route passes from Barnaul, through special tourist's recreational zone Biruzovaya Katun, lake Aya, Belokurikha and other settlements.

How To Get To Place


The route is recommended to organized groups of tourists using services of tourist's firms, guides.To watch the blossoming on their own can tourists who visited the foothills of Altai Kray in the first decade of May: the area of lake Aya, Biruzovaya Katun, Belokurikha on interurban bus or private transport.


Advice to travelers
| | | |
| --- | --- | --- |
| The blossoming can be observed once a year during two weeks in the period from the end of April and the first decade of May. | The weather in foothills is unpredictable in spring . It is better to have two variants for cold and warm periods. If you were there and caught cold and snow, next time you may find hot sun. | In the period of long May holidays in Altai Kray there is a holiday Tsvetenie Maral'nika(Stag Farm Blossoming) (Biruzovaya Katun), and also photo contest for amateur photographers and professionals. Everybody who wishes can take part in it. |
Traveler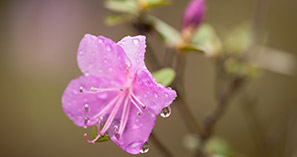 Flowering Maral'nik Is Visit Card Of Altai

Vladimir Perelomov, the prize-winner of the championship of the Far-Eastern Federal District by Sport's Tourism. -It is unusually beautiful show. Those who once saw mountains covered with flowering maralnik will remember it forever. And the desire to see this beauty will be the main factor when choosing spring tourist's route. The flowering maralnik is a visiting card of Altai.


The route Flowering Maralnik: Barnaul-Krasnogorskoe-Biruzovaya Katun'- Lake Aya-Altaiskoe-Belokurikha-Soloneshnoe-Charyshskoe-Barnaul. The duration is 4 days/3 nights. The days of visit are during federal holidays, May holidays. The minimum number of tourists is 10, the maximum is 15.